Our foundation was established in late 2006. Since then the Elisa Gastellum Memorial Foundation has awarded over $50,000 in scholarship money. We are proud to say that all of the funds raised through our events has come from family, friends, and local businesses.
In comparison to most foundations, we are small, but it has a BIG heart of supporters!!
Our dream is to continue growing in order to reach out to schools who have mariachi programs. To help strengthen their curriculum program with music materials and quality instruments. Many schools have a very small budget, or no budget at all, and our goal is to be able to make a difference in mariachi education in the fine arts programs beginning in Arizona and expanding to other states.
We will also continue to award scholarships to young students who have a passion for mariachi music, and a desire to go to college.
Lastly but not least, our work with the community through youth ministry, support group work and the Tucson, Clean and Beautiful Program will continue.
Losing our beautiful daughter has been very painful, but we must continue our journey. The foundation has given us a purpose and we have received healing through the outpouring of love and support from so many wonderful people. "It is in giving that one receives."
Thank you and God bless you and your families.
– Bobby and Terri Gastellum
---
Scholarships
Scholarships awarded to students involved in mariachi music with a desire to graduate from a university.
A mariachi soloist is selected from the Las Cruces International Mariachi Conference held each November in Las Cruces, New Mexico
A graduating senior who has taken mariachi classes is selected each year from Cholla High School, Elisa's alma mater from Tucson, Arizona
2 -4 graduating seniors selected from the Clark County School District Mariachi Festival held each spring in Las Vegas, Nevada
Music Scholarship is awarded annually to help a high school mariachi group attend the Tucson International Mariachi Conference in Tucson, Arizona
Voice Instruction Scholarships awarded to mariachi students who attended the Viva Performing Arts Conference at the University of Arizona
Music Tuition Scholarship for one year is awarded to a student attending the New York Mariachi Conference each summer in Brooklyn, New York
---
Causes
Life Teen Ministry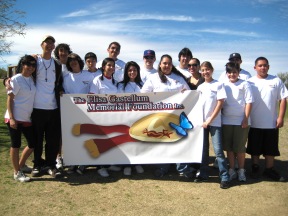 The foundation supports the Life Teen Ministry Group from Our Lady of Fatima Parish in Tucson, AZ. A yearly donation is awarded to this ministry which promotes youth spirituality and prepares them for the sacrament of confirmation. Elisa was a member of this teen group which helped her to grow in her faith.
Every year Terri, Elisa's mother visits the group and speaks to the youth about Elisa's spirituality and how this ministry touched her life.
Footprints Forever on Our Hearts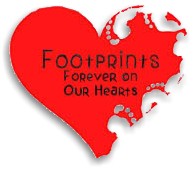 Terri Gastellum began this support group in 2009 after receiving the blessing from Bishop Gerald Kicanis for the Catholic Diocese of Tucson.
The mission of Footprints Forever On our Hearts Support Group is to reach out to families through scripture, sharing and praying for one another following the loss of a child.
Elisa's Shrine
About the picture on the shrine –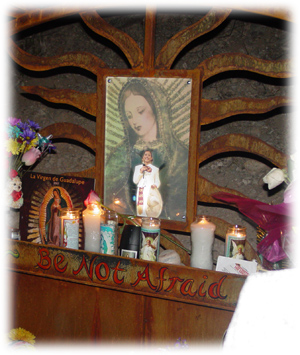 Days after Elisa's passing, while the funeral arrangements were being made, our nephew, Mateo Otero was trying to come up with an idea for a shirt. He woke up very early one morning, and as he passed the piano in the dining room, he saw two pictures in frames. One was the picture of "Mamacita", the Blessed Mother and the other was a picture of Elisa performing on stage in Orlando. He immediately got the idea he was searching for. Later that morning Mateo went to the mall to a kiosk stand where people could design shirts, plates, etc. with pictures. He asked the owner if they could place Elisa's picture over the picture of" Mamacita". With the computer technology they were able to do it. Everyone in
the family ordered a shirt with that picture. A year later we were able to use it for the shrine.
---