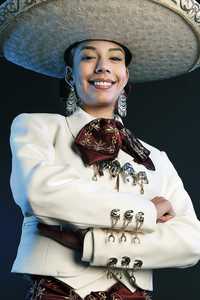 Elisa Gastellum was a passionate young woman pursuing her dream to be a famous singer in the mariachi realm.
In five years, Elisa went from knowing very little about mariachi music to embracing it with a strong desire to perform and move audiences. Despite her youth, Elisa had away of deeply touching people with her songs.
Her favorite mariachi singers were Mariachi Vargas, Luis Miguel, Rocio Durcal, Aida Cuevas and her personal violin instructor, Monica Trevino. Elisa also admired her godfather, Steve Carrillo, from Mariachi Cobre. Steve helped Elisa with vocal instruction and advice whenever possible. Elisa held a special place in her heart for Mariachi Cobre. She considered them family.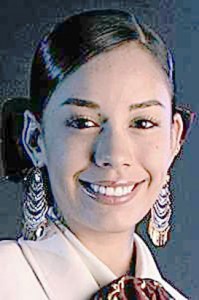 In 2005, when Elisa submitted a video to compete in the Tercer Festival de Mariachi in DisneyWorld, she realized that her chances of being selected would be slim because she didn't speak Spanish.
It was for this reason that Elisa felt indebted to Univision producer, Eduardo Jimenez Pons of Miami. He saw beyond the language barrier when he heard Elisa sing. He believed in her talent, and it was through his determination that Elisa was one of the six selected to participate.
When Elisa became runner-up in the festival, Mr. Pons said, "It was a tough competition and Elisa did very, very well. She had it tough because she did not speak Spanish. However, she sings beautifully in Spanish. She can really feel the music. She is kind of like a Linda Ronstadt phenomenon. She certainly needs to follow a singing career because she is fantastic."
Upon returning to Tucson, Elisa set a goal to go to Mexico and study Spanish. Elisa and her family prayed that God would open the right door for her future. On Feb. 24, 2006, God did open a door — the door to eternal life. Elisa will never be forgotten. Through her foundation the dreams of other young musicians will be realized, as hers was.